I am getting married! ♥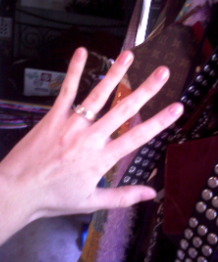 ...To God, that is =P Look at this ring! Isn't it a beauty?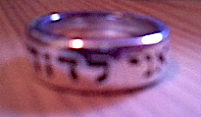 It says in Hebrew: "I am my Beloved's, and my Beloved is mine"
[Song of Solomon 6:3]

I was looking through my jewelery box, untangling jewelery and whatnot... and I got really sad. I don't have a single piece of jewelery given to me by a guy... no diamonds, no platinum, nothing of real value - heck, even plastic would be valuable to me if it had meaning behind it. But yeah, all my really expensive jewelery I bought for myself (Tiffanys = bad habit!).

So, I did it again. I bought myself a really expensive ring and put it on my wedding ring finger because I'm sick of looking at a ring-less, diamond-less finger... now I can look at my ring finger and know that I am my beloved's, and He is my First Love.